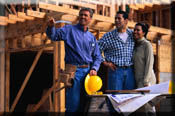 On March 12,
1963, nine individuals, concerned about racial discrimination in Morris County housing, met at Drew University. Recognizing the need for citizen involvement to combat discriminatory housing practices in Morris County, they agreed to meet again and plan a course of action, and so "The Morris County Fair Housing Council" was born.

Their mission became to ensure that anyone, regardless of race, creed, color, national origin, nationality, ancestry, sex, marital status, familial status, mental or physical handicap and sexual orientation could obtain suitable housing without discrimination.


On October 25, 2001, The Morris County Fair Housing Council became The Fair Housing & Assistance Program of the Urban League. Formerly, the Council operated as a voluntary, non-profit organization, funded by contributions and grants, serving people with housing problems. From its small space in Morristown, its substantial influence reached all corners of the housing market in Morris County. Today, the synergism from this union strengthens not only the mission of the Urban League, but benefits the entire community formerly served by each agency independently. Additional outreach services, and new resources have been acquired, as their service and advocacy components merge and fortify.

Click here to see Services Provided